Onsite Pool Safety Consulting
Meet face-to-face, Discuss Pool Safety
Any Pool.
Any Size.
One Price.
Certificate Included!
Real Time! Instant Booking!!
Any Pool.
Any Size.
One Price.
Certificate Included!
Advise, Recommendations & Solutions
Onsite Pool Safety Consulting
Confused? About Queensland's Pool Fence Regulations
At Pooltech, we live and breathe pool safety, this is why we provide an 'Onsite Pool Safety Consulting' service, for anyone who requires the expertise & knowledge in pool barrier safety regulations.
We provide practical advice that will help guide you through your pool fence implications… offering feasible solutions & recommendations.
Our Consulting service is customised to your individual needs and not on a 'one size fits all' basis.
Recommended for those who may be…
Selling a home with a swimming pool or spa? and intend to attached a 'Form 36 – Notice of no pool safety certificate'.
A Homeowner with a swimming pool or spa, who may wish to remodel, relocate or upgrade their pool barrier.
Constructing a Swimming Pool or Spa and would like recommendations of feasible locations of where the pool fence barrier could be positioned.
Pool Owner's with an exisiting pool safety barrier, who wish to have an assessment prior to a pool safety inspection.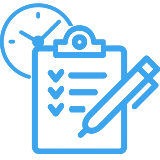 Duration
Typically 30-60mins
No Certificates Issued
Advisory Service Only
Is Your Fence Compliant..? Checklist...
Download.
Our Guide.
Pool Fence Regulations
Is Your Fence Compliant..? Checklist...
Reliable, Knowledgeable, Advice
Existing Pool Barrier Fence Consulting
Queensland's 'pool safety regulations' can be confusing sometimes, especially when applying the written regulation's into a practical enviroment.  Our consulting service will help educate, anaylsis your existing pool fence.
Although your Pool Safety Certificate has expired and a new certificate isn't required your pool fence still needs to comply.
Our consulting service  to put into pratice from a written document.Our consulting service is to educate and help analysis issues and problems which you may have about your pool fence barrier.
Reasons to choose our service…
Ensure your pool fences comply with the law
Although you're not required to renew an expired pool safety certificate… unless you're selling, renting or leasing. Your pool safety barrier still needs to remain compliant with the current laws, regulations & guidelines.
Family & Young Children
The home is one of the most common places for children to get injured and a home with a swimming pool will never be forgiving. With the additonal of new family members, safety around the pool should be of most importance.
Maintaining Safety Barrier's
Over time, Pool Safety Barriers can show signs of wear, degrade or become damaged. With the uncertainly of whether it still complies with the current standards, our service will help you discover areas you maybe unaware of and how to recitfy them.
Building / Landscape Changes
Addtions to your pool area such as decking, maybe impeding your safety barrier.
Selling a Home - Without a Pool Safety Certificate
Are you selling a home with a swimming pool and intend to attached 'Form 36 – Notice of no pool safety certificate'?
Attaching a form 36 to the sale of your home does not exempt you from local government enforcement's or being fined for a 'current' non-complying pool fence. Therefore, you should consider whether your pool safety barrier complies in its current condition before the settlement is approved.
As stated by the Qbcc "if you are giving a form 36-notice of no certificate, your pool must be compliant". The form 36-notice will then give the new home owner 90 days to engage with a pool safety inspector, to conduct a pool safety barrier inspection from the settlement date. 
Form 36 - Does not prevent enforcement's
Intending or attaching a Form 36 to a sale – does not exempt you from non-compliance enforcements and the local government can still issue you a fine.
90 days - for New Home Owner to Engage
Home owners have 90 days from the settlement date to engage with a pool safety inspector to conduct an inspection.
Working with Property Developers
When planning to build, remodel or intend to renovate a swimming pool, you may need assitance in knowing your pool barrier safety requirements. Perhaps? your current project already has a swimming pool, but you're are unsure about the current Pool Safety Regulations. Well! we can work with you as a one off or an 'on going' basis, allowing you to focus your time on where it matters.
Working With You
Our mission is to educate, prevent costly mistakes and offer alternative solutions with a personalised approach.
Reinforcing & Supporting Your Decisions
You may have ideas which'll satisfy the pool regulations… but need the peace of mind.
Pre-Build - Pool Barrier Location Advice
Pool fence barriers aren't always included in your Pool Construction and is left up to you to outsource your own contractor. Our consulting service can answer any questions before comitting to a pool fence installer.
If you are currently constructing a swimming pool or are about to start, you may have changed your mind on the location of the pool safety barrier. Therefore, it would be a good idea to check that these intended changes will be compliant with the regulations beforehand.
You may have had unexpected variations during the early stages of your pool construction and wish to lower costs, by altering your pool fences location or material type.
Conflict of Interest
Pool Safety Consultations on a regular basis cannot lead to; conducting 'Pool Safety Inspections' for the same individual if there is a potential for a 'conflict of interest' between both parties. This includes any other ongoing maintenance arrangements or services offered by Pooltech.
Information 'Qbcc – conflict of interest'
Ready for a Fence
Inspection?
Ready for a Fence
Inspection?
Ready... for us to inspect your fence?

| | |
| --- | --- |
| Mon-Fri | 8am-4pm |
| Saturday | 8am-1pm |
| Sunday | Closed |
Business Location
201 Jesmond Rd, Indooroopilly, Brisbane, QLD, 4068
© Copyright 2020 | Pooltech | All rights reserved
PSI Licence No. PS15153330 | ABN 24 603 270 151 | Pooltech