Fence Reinspections
Pool Safety Reinspection Service
Any Pool.
Any Size.
One Price.
Certificate Included!
Real Time! Instant Booking!!
Are You.
Re-inspection.
Ready?
Instant Online Booking
Time to Reinspect your Pool Fence
Ready for a Pool Safety Reinspection?
Our Pool Safety Reinspection Service is a re-inspection of your pool fence, which has been issued a 'non-conformity notice'.
Although, only partial 'non conforming' areas outlined in the intial inspection and has since been rectified. A full examination of your pool's safety barrier will still be carried out.
This inspection will determine whether your pool fence is now compliant in accordance with the standards or whether a further inspection is required, with a reissuing of a nonconformity notice.
What is a non-conformity notice?
A 'non-comformity – form 26' is a notice outlining the defects of your pool fence, in order for the pool fence to comply and be issued a pool safety certificate, the defects outlined in this notice will need to be rectified before the inspection is conducted.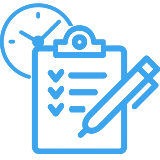 24h Turn Around
Reports in 24 hours
Is Your Fence Compliant..? Checklist...
Download.
Our Guide.
Pool Fence Regulations
Is Your Fence Compliant..? Checklist...
In-house, Reliable, Trustworthy.
Booking a Fence Reinspection
Since this is a reinspection, you won't need to check the Queensland pool register like you did prior to the first visit. But, don't forget that you'll still need to obtain consent from the owners of neighbouring properties if boundary fences form part of your pool barrier. Don't forget to ask if they have pets!
Before you call to make a booking, make sure that any issues outlined in the first nonconformity form have been rectified and check to see that those compliant areas haven't since been compromised.
Day of the Reinspection
Since your safety is of prime importance, on the day of your reinspection a full examination of your pool's safety barrier will be carried out. This will include all areas of the barrier, including those that were deemed compliant during the initial inspection.
The exact amount of time the inspection takes will depend entirely on the overall size of the pool, but general speaking, it's not long – usually about 30mins to an hour.
Fence Reinspection Outcome
If your pool inspection meets current standards and regulations, you will become the proud and happy owner of  a Pool Safety Certificate. However, if the pool safety barrier does not meet current standards, you will be provided with another nonconformity notice. If you're wondering why your pool or spa is considered non-compliant, just read Form 26. Everything will be detailed there. This form will contain recommendations and solutions for you to complete before your next reinspection, which will need to be scheduled within 3 months from the date  Form 26 was issued.
Ready for a Fence
Inspection?
Ready for a Fence
Inspection?
Ready... for us to inspect your fence?

| | |
| --- | --- |
| Mon-Fri | 8am-4pm |
| Saturday | 8am-1pm |
| Sunday | Closed |
Business Location
201 Jesmond Rd, Indooroopilly, Brisbane, QLD, 4068
© Copyright 2020 | Pooltech | All rights reserved
PSI Licence No. PS15153330 | ABN 24 603 270 151 | Pooltech