Pool Safety Inspections
Moreton Bay
Pool Compliance in Moreton Bay
Any Pool.
Any Size.
One Price.
Certificate Included!
Real Time! Instant Booking!!
Any Pool.
Any Size.
One Price.
Certificate Included!
Pool Safety Compliance Certification
Pool Safety Inspection Moreton Bay
Looking for a Pool Safety Inspection in Moreton Bay?
If you are living in
the Moreton Bay Region
and require your Pool Safety Certificate, 'Pooltech' is here to help! We're based in North Brisbane and are available to provide an efficent, friendly
Pool Safety Inspection
in your area.
Here at 'Pooltech' your safety is our top priority. Our technicians are able to offer Onsite Pool Safety Consultations in addition to our regularly offered Pool Safety Inspection services.
While maintaining the highest standards of customer service, we will assess the structural integrity of your pool or spa's barrier in accordance with the pool safety standards.

If you plan to book one of our services and your boundary fence forms part of your pool barrier, please remember to let your neighbours know we are coming!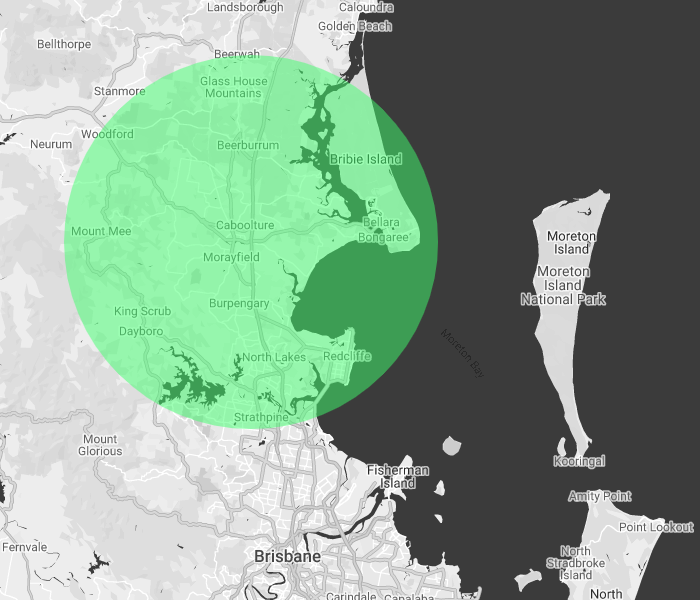 Services in Moreton Bay Region
Step by step! Registering a Swimming Pool
If your swimming pool is not currently registered. Following these steps below will add your pool to the register.
Step 1. Go to Pool Register – QBCC
Step 2. 'Search Property' by address or lot number.
Step 3. Select 'Your Address'.
Step 4. Click 'Register Pool'.
Step 5. Enter your details & press 'Submit'. Check the confirmation… Done!
Do I really need a Pool Certificate?
When buying, selling or leasing a property in Queensland you must provide a valid pool certificate… unless you attach a 'form 36 – a notice of no pool certificate' to the sale. However, if your pool certificate has simply just expired and you aren't intending to move house, lease your property out or have made significant changes to the barrier, you don't need to renew the certificate.
Nevertheless, it is imperative that your pool fence complies with the current Queensland Pool Safety Regulations, regardless of whether or not your pool safety certificate has expired.
How long are Pool Certificates valid for?
Non-shared pool certificates last for

2 years.

For shared pools, the certificates last for

1 year.
Whats the difference?
Non-shared pools are only accessible by one dwelling, such as your private home.
Shared pools are accessible by more than one dwelling, such as hotels, motels, backpackers, complex, caravan parks.
Is Your Fence Compliant..? Checklist...
Download.
Our Guide.
Pool Fence Regulations
Is Your Fence Compliant..? Checklist...
Qld – Pool Safety Regulations
Pool Fence Requirements in Queensland
Queensland has some of the toughest pool safety requirements in Australia. Take a look at some of the most commonly looked at pool safety regulations below, to see if your pool is likely to be compliant.
Non-Climbable Zones in Qld
What are non-climbable zones or 'NCZ'?
A non-climbable zone is an area around the pool's safety barrier which prevents children from climbing & accessing the pool area. The non-climbable zone requires a 900mm zone around the parameter of the barrier, which is free from climbable objects & stepping points.
What is classed as a 'stepping point'?
Stepping points can be objects, projections or indentations, which have a horizontal surface of more than 10mm. These stepping points could potentially aid a child's ability to climb & access the enclosed pool area.
Differences between 'Clear Area' Vs 'Additional Clear Area'
The '

Clear Area

' is a 300mm zone, adjecent to the non-climbable zone, but inside the pool area. The clear area needs to also be free from climbable objects and stepping points.

Additional Clear Area

 –

The 'Additional Clear Area' is a zone which can effectively be applied above or below the non climbable zone (or both) providing the 'non climbable zone' & the 'additional clear area' equates to 1200mm. This is to maintain the effective height of the safety barrier.
Pool Safety Inspection Tip #1
1.1 With a tape measure, measure 900mm perpendicular from the top horizontal rail. Check for climbable objects
1.2 Measure 300mm into your pool area, adjacent to the NCZ and check for climbable objects.
1.3 Taps, gas pipes & tree branches are the most common stepping points around a pool barrier.
Minimum Pool Fence Heights & Gaps in Qld
What is the Minimum Pool Barrier Height?
A swimming pool's barrier must be a minimum of at least 1200mm. This measurement is taken vertically from the top of the pool's safety barrier, down to solid ground.
Spacing Between Upper & Lower Horizontal fence rails
Horizontal rails cannot be present within the non-climbable zone and should be spaced 900mm apart. Alternatively, where horizontal rails cannot be repositioned, 60 degree angled wedges can be fixed on top of the rails to deem them as non-climbable.
Can I have Gaps Under My Pool Fence?
Any gaps or openings around the pool's safety barrier cannot exceed more than 100mm.
Pool Safety Inspection Tip #2
2.1 Loose soil should be compacted down.
2.2 Decorative gravel can be an issue if it can be removed to create a gap of more than 100mm, without the use of a tool.
2.3 'Higher ground' on sloping fences can reduce the overall height of the fence & create gaps greater than 100mm under the fence.
Boundary Pool Requirements Qld
Pool Boundary Fence Heights
In Queensland, the minimum height required for a boundary fence is 1200mm or more. However, if the non-climable zone is to be applied on the 'pool area' side, it must be a minimum of 1800mm.
Boundary Non-climbable Zones inside the Pool Area.
For boundary safety barriers opting to have the non-climbable zone on the inside of the barrier. The fence must have a height of no less than 1800mm & also have a 900mm non-climbable zone measured perpendicular from the top of the barrier. There can be no stepping points within this zone, except for intersecting safety barriers with a top rail width of no more than 50mm.
Pool Fence Intersecting the Boundary Fence
Where the boundary fence is being intersected by another barrier, and the NCZ is present on the inside of the 'pool area'. Top Horizontal members (or tops of rails) intersecting the barrier can be present within the NCZ, providing it has a width of no more than 50mm and intersects at an angle between 45° & 135° Degrees.
Horizontal Rails on Timber Boundary Fences
Horizontal rails cannot be within the non-climbable zone and should be spaced 900mm or more apart. If it is not possible to alter the distance between the horizontal rails, then the use of 60° angled wedges could be a possibility.
Splash Proof Boundary Fencing Regulations (new builds only)
Splash proof fencing is not part of the pool safety standard & is not considered during a 'pool safety inspection' for existing pools. For new swimming pools, a splash proof fence is required when the 'pool waters edge' is within 1500mm of the boundary fence, including a minimum height of 1800mm.
Pool Safety Inspection Tip #3
3.1 Eliminate horizontal rails within non-climbable zones with the use of 60° angle wedges.
3.2 Take more control: Boundary fences with Non-climbable zones on the inside vs having them on your neighbours side.
3.3 Look out for gaps

≥10mm between palings, where horizontal rail are on the opposite side which could be used as a foothold.
Pool Latch & Operation Requirements Qld
Minimum Pool Latch Height
Latches which are located on the inside of the pool gate (eg. glass pool gates) must be located ≥150mm below the height of the gate, providing there are no hand-holes.
Latch mechanisms can be located on the outside of the pool gate, providing the height is of 1500mm or more from finished ground level including a minimum height of 1400mm from the latch mechanism to the highest 'lower' horizontal rail. (if one is present)
Self Latching & Self Closing Pool Gates
All entry points to the pool area must self-close from all operational positions & self latch without any external forces.
All pool gates must open 'away' from the pool area, they should never open towards the pool area.
Pool Safety Inspection Tip #4
4.1 Measurements are taken from the bottom of the latch mechanism.
4.2 Tighten any pool gate springs which may be preventing the pool gate from self closing efficiently.
4.3 Check the gate lock mechanism cannot be locked when in an open position.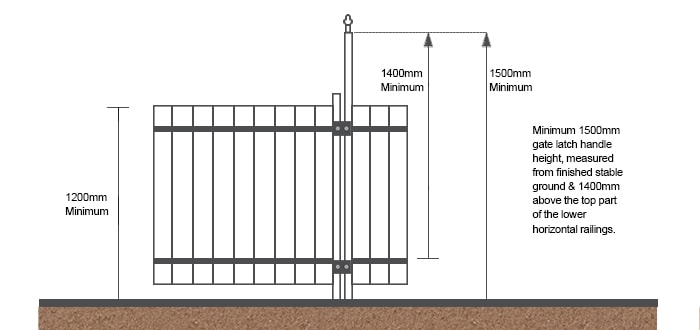 CPR Pool Sign Rules – Queensland
Cardiopulmonary resuscitation signs must be at least 300mm by 300mm.

CPR signs must be appropriately weatherproof & durable material.

Signs must be visible from all areas of the pool area.

Permanently fixed.

Must show the techniques in performing CPR according to the guidelines.
Which Guideline does the Pool Safety sign follow?
CPR signs for new pools must follow
'

Guideline 8

'
which is
published by the Australian Resuscitation Council.
Existing pools with CPR signage following 'Guideline 7' is acceptable providing it hasn't faded or become defected. However, a 'Guideline 7' sign must not be replaced with another 'Guideline 7' and must be replaced with an updated 'Guideline 8' version.
Pool Safety Inspection Tip #5
5.1 Check all the steps are outlined in the CPR sign, whether its a guideline 7 or 8
5.2 Ensure its securely fixed
5.3 Check to see if any parts of the sign has faded
Buying a Property with a Pool…? Suspicious looking Pool Fence?
A valid pool certificate!

Doesn't always mean the 'Pool Fence' is 100% compliant!
Not all properties with a valid pool certificate will have a complying pool fence. This is due to the timings between the issuing of the certificate and its current state. It may have undergone changes & alterations, or fencing panels may have become damaged and defected over time. Also surrounding elements such as branches and shrubs which may have overgrown into the pool area. You may be able to attach a pool safety consulting report to possibly decrease the final sale price of the property, which would contribute to the costs of recifying the pool fence.
Pool Safety Consulting Report.
Broken fence panels.
Neighbours have altered their side of the fence & made the pool area non-compliant.
Wear & Tear.
Non-compliant areas missed during

initial

inspection.
Over grown trees & shrubs.
When choosing our pool safety consulting service, you will

not be issued a non-conformity notice or a pool certificate

, only a report outlining potential hazards & areas which are a cause for concern.
Pool Safety Inspection Tip #6
6.1 During a property inspection, check for broken fence panels.
6.2 Ensure the gate self latches & closes.
6.3 Check for over grown trees & shrubs resting on the pool fence.
Pooltech Services – Moreton Bay
Services we provide in the Moreton Bay Region
Pool Safety Inspections in Moreton Bay.
Pool Consulting & Advice in Moreton Bay.
Strata & Onsite Property managers Pool Inspections.
Ready for a Fence
Inspection?
Ready for a Fence
Inspection?
Ready... for us to inspect your fence?

| | |
| --- | --- |
| Mon-Fri | 8am-4pm |
| Saturday | 8am-1pm |
| Sunday | Closed |
Business Location
201 Jesmond Rd, Indooroopilly, Brisbane, QLD, 4068
© Copyright 2020 | Pooltech | All rights reserved
PSI Licence No. PS15153330 | ABN 24 603 270 151 | Pooltech